Let's make a better baby
Nutrients!
This is one of the most important times in our lives – building a strong, happy and healthy baby or babies!
If you were anything like I was in my pregnancies, you have a lot of worry about whether you are doing everything you should and can be, wondering if you can do things better or if there is anything you have missed. Getting bits of information from here and there and finding it difficult to know exactly what to take and do, is frustrating and time consuming.
For Mums
How  to Increase Your Energy
The best kept secret is the one that comes after our first born arrives!
We prepare so much for the birth the baby room, the baby clothes, the pram, but no one ever tells us exactly how we are going to feel after the birth! Lack of, or no sleep, sore, cracked and bleeding nipples, breast feeds that last for 1 hour, you might never again complete a task from start to finish without interruption and so of course its understandable that tiredness can set in due to these physical and psychological adjustments.
On today's show we talk all things periods with Clinical Nutritionist and Naturopathic practitioner, Maria Harpas from Natural Health Medicine. You can find Maria on Instagram @Natural_Health_Medicine or contact her through her website:...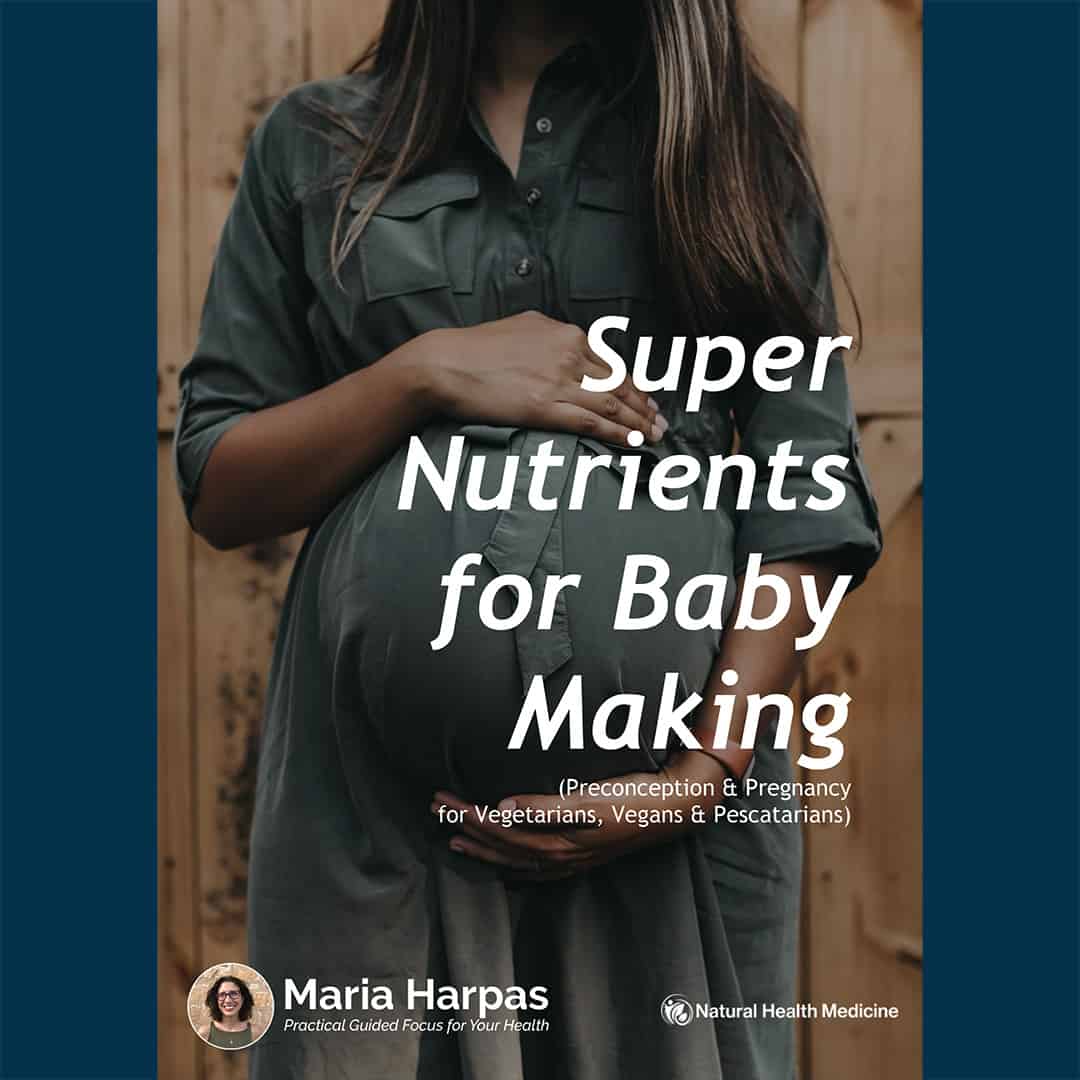 So, you want to make a baby!
Our Super Nutrient for Baby Making ebook will give you, your nutrient checklist in detail and how to find those nutrients in your diet. We have included charts that show you the foods highest in the most important nutrients to make a healthy baby.
Iron deficiency  Nearly everyone knows that iron deficiency causes tiredness and fatigue but it's one of the best kept secrets that iron deficiency causes much more than a tired body! When we are fatigued we are not motivated for a start! But iron deficiency also...
Gall Bladder Is gallbladder removal absolutely necessary in all cases? The gallbladder is a small pouch like organ which sits just under the liver, its job is to store bile, which is produced by the liver. The gallbladder empties bile into the small intestine, and...
ALLERGY, HISTAMINE or INTOLERANCE? Many people suffer obvious, allergy type symptoms, yet have not been tested to determine if its actually an allergy or intolerance, or a histamine clearing issue! Treatment varies with each of these and for those who suffer the...
Addictions Addictions are becoming a major issue and whilst one of the key elements to recovery is, ones genuine want to stop and for their lives to change, there are some still some potholes that can interfere with ones recovery and rehab centres for many have not...
Ulcers Helicobacter Pylori (H. Pylori) is a gram-negative bacteria which invades the human stomach, effecting 30% of children and 60% of adults worldwide - that is more than half the population! It has developed the ability to survive in the acid environment of the...
Looking for healthy snack ideas? If you usually turn to fruit, or fruit based snacks, it might be time to consider something like, these flaxseed crackers. We often buy crackers, but you can make your own! It will take you a couple of hours once every 6 weeks...
These biscuits are loaded with nourishment from the seeds, oats, cinnamon and also full of fibre,  good quality fats, magnesium, zinc and more. Try this recipe for a perfect snack or a tasty dessert with a nice hot cacao or chai latte! Makes 14 biscuits Ingredients  -...
Omelette Perfect dish to load up on your veggies first thing in the morning! Additional healthy fats and protein will keep you satisfied until lunch, you can mix up the veggies depending on what you have in the fridge.  Ingredients  4 eggs ½ small zucchini grated 6...
This delicious dessert is gluten, grain, and refined sugar (sweetened with dates and honey) free and no baking needed! Ingredients for crust 2 cups pecans 1 cup pitted dates 1 cup shredded coconut ¼ cup cacao nibs ¼ cup coconut oil/butter ¼ cup cacao powder ½ tsp sea...
There are lots of Christmas traditions around eating and drinking but we thought we would share one that was shared with us by our client Annie Hughes.  How about a traditional Christmas Cake that tastes delicious? This beautiful Christmas cake recipe from Teresa...
Mung Bean Soup Winter or summer, Mung Bean Soup is a yummy health option for lunch or dinner. This healthy Mung Bean Soup recipe serves 2 with leftovers. Ingredients 1 cup mung beans (soaked overnight) 3 tbsp ghee 2 cloves garlic, chopped 1 tsp minced fresh ginger 2½...
Getting stuck for quick healthy lunch ideas?  Well don't forget good old tuna salad to make sure you can tick off your protein, get those vegetables in and feel satisfied at the same time!  There are many different types of tuna in a can, tuna in spring water is best...
Your Personal Health Support Team
We are here to support and guide you with our team of naturopaths and nutritional medicine practitioners, directed by Maria Harpas. We use pathology testing to assess your health and risks to allow us to develop a treatment plan just for YOU. We can also work closely with your GP to organize lab tests, coordinate your treatment, and measure your progress. The best outcome for YOU is what we want.