Let's make a better baby
Nutrients!
This is one of the most important times in our lives – building a strong, happy and healthy baby or babies!
If you were anything like I was in my pregnancies, you have a lot of worry about whether you are doing everything you should and can be, wondering if you can do things better or if there is anything you have missed. Getting bits of information from here and there and finding it difficult to know exactly what to take and do, is frustrating and time consuming.
For Mums
How  to Increase Your Energy
The best kept secret is the one that comes after our first born arrives!
We prepare so much for the birth the baby room, the baby clothes, the pram, but no one ever tells us exactly how we are going to feel after the birth! Lack of, or no sleep, sore, cracked and bleeding nipples, breast feeds that last for 1 hour, you might never again complete a task from start to finish without interruption and so of course its understandable that tiredness can set in due to these physical and psychological adjustments.
  Teresa Palmer: Hi guys! We are very excited to be back here today with Maria Harpas from Natural Health Medicine. Thank you for being with us. If you haven't checked out our first video that we did with Maria please do. It is on our blog. We had amazing feedback so...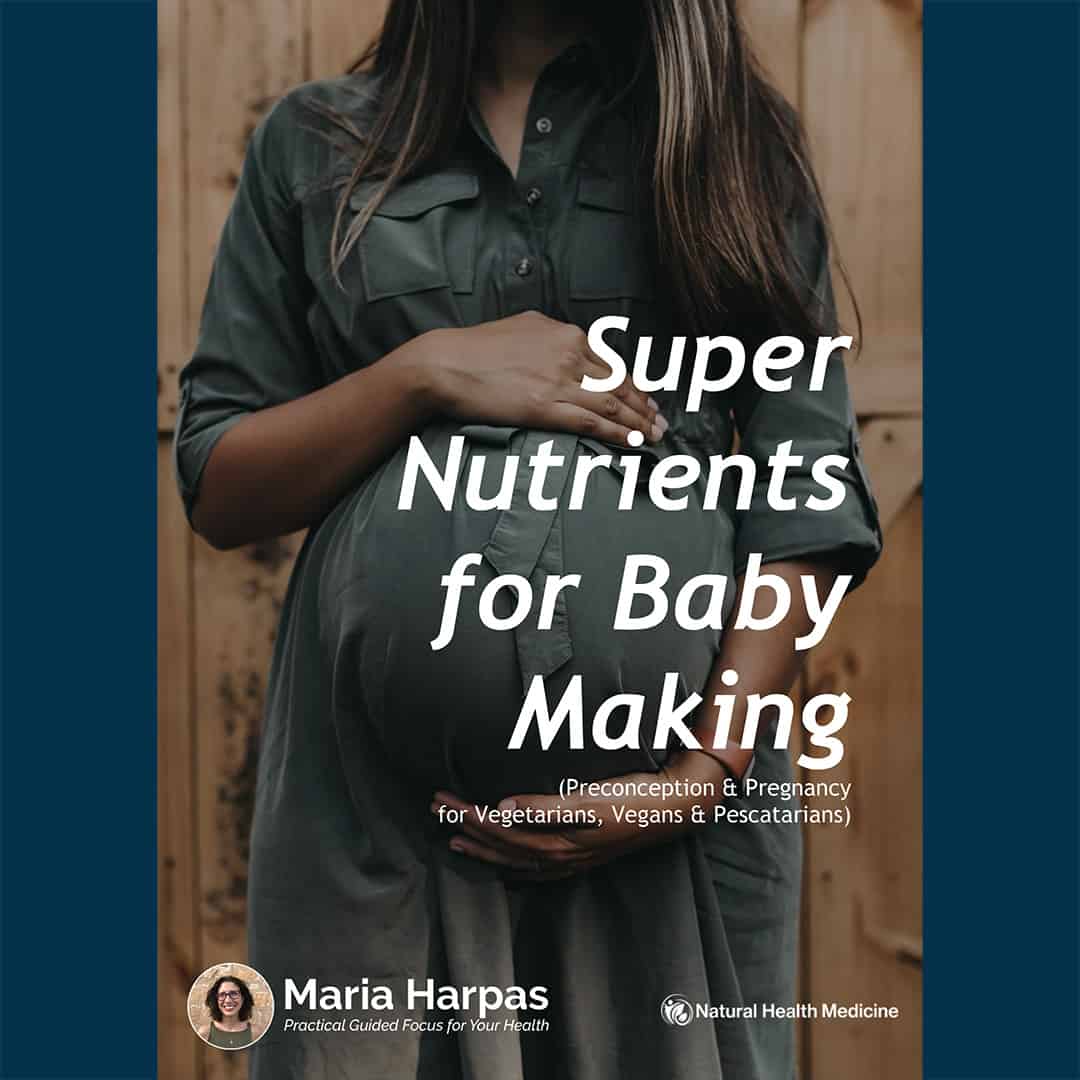 So, you want to make a baby!
Our Super Nutrient for Baby Making ebook will give you, your nutrient checklist in detail and how to find those nutrients in your diet. We have included charts that show you the foods highest in the most important nutrients to make a healthy baby.
    Changing your diet or what you eat can be the important first step in regaining your health. Your diet can affect anxiety, depression, skin conditions (eczema, psoriasis, rashes), autoimmune diseases (Hashimoto Thyroiditis, Rheumatoid Arthritis), joint and...
What is Leaky Gut Syndrome? Leaky-Gut-Syndrome, more technically known as a 'hyper-permeable gut', is a condition where the cells of our intestine begin to 'unstick' from one another. These cells in our intestine are a part of a protective lining which...
Coeliac Disease Do you have unexplained digestive pain, skin rashes, joint pain, iron deficiency, or bone and muscle pain or even chronic fatigue? Varying symptoms like this could be Coeliac disease! Coeliac disease is a serious autoimmune disorder and...
What Are Yeast Infections? Yeasts are tiny organisms belonging to the fungi group (mushrooms & mould). When humans consume high amounts of yeast, or there are problems with the type and numbers of your beneficial flora, overgrowth becomes problematic in the body...
PROBIOTICS or PREBIOTICS?
Most of us have heard of probiotics, those good bacteria that reside in our digestive system, referred to as the gut or human microbiome, they literally are responsible for the health of our whole body – YEP really important stuff. But what about prebiotics few know what a prebiotic even is!
What is SIBO?  SIBO is a condition where excessive amounts of bacteria are found in the small intestine (where you absorb all your nutrients) that causes hydrogen, methane or hydrogen sulphide gas production. These gases mimic Irritable bowel syndrome...
  Tahini Slice – Lectin, Gluten, Dairy Free & lower Sugar - by Annie Hughes So this is an update on our previous Tahini Slice that incorporates some new ideas from Dr Steven Gundry and his research in his latest book the 'Plant Paradox'. Dr...
 Low inflammatory - Gluten & Grain Free - High Protein, fiber & Nutrients - Keto Friendly - Low Carb Ingredients 1 & 1/4 cups almond flour 5 tbsp ground psyllium husk powder 2 tsp baking powder 1 tsp sea salt 2 tsp apple cider vinegar 1 cup boiling...
Lentil and Pomegranate Salad Pomegrantes are really a great superfood, why because they can reduce macrophage oxidative stress, free radicals, lipid peroxidation and pomegranate juice may have cancer-chemopreventive as well as cancer-chemotherapeutic...
TAHINI SLICE - Healthy Snacks For Kids This tahini slice is a great way to get lots of superfoods in, excellent snack food for adults and great to add to your, "healthy snacks for kids" ideas. Its a nice dense and quite rich slice. Slice into small squares. You could...
All About QUINOA What to do with quinoa? Quinoa is actually a seed not a grain, yet it can be used in a similar way to other grains making it very versatile and very useful. Why do we like it so much? Why not just use the grains we are used to using, like wheat, oats,...
Turmeric and Ginger Anti Inflammatory Hot Drink What a great new drink to replace coffee and easy to make. Turmeric is the best natural anti inflammatory - read more on anti inflammatories here. Ingredients 4 teaspoons of turmeric powder 2 teaspoons of ginger powder 1...
Your Personal Health Support Team
We are here to support and guide you with our team of naturopaths and nutritional medicine practitioners, directed by Maria Harpas. We use pathology testing to assess your health and risks to allow us to develop a treatment plan just for YOU. We can also work closely with your GP to organize lab tests, coordinate your treatment, and measure your progress. The best outcome for YOU is what we want.
You are different
You need a tailored treatment plan, using pathology testing to accurately and scientifically assess your health and risks.