Let's make a better baby
Nutrients!
This is one of the most important times in our lives – building a strong, happy and healthy baby or babies!
If you were anything like I was in my pregnancies, you have a lot of worry about whether you are doing everything you should and can be, wondering if you can do things better or if there is anything you have missed. Getting bits of information from here and there and finding it difficult to know exactly what to take and do, is frustrating and time consuming.
For Mums
How  to Increase Your Energy
The best kept secret is the one that comes after our first born arrives!
We prepare so much for the birth the baby room, the baby clothes, the pram, but no one ever tells us exactly how we are going to feel after the birth! Lack of, or no sleep, sore, cracked and bleeding nipples, breast feeds that last for 1 hour, you might never again complete a task from start to finish without interruption and so of course its understandable that tiredness can set in due to these physical and psychological adjustments.
On today's show we talk all things periods with Clinical Nutritionist and Naturopathic practitioner, Maria Harpas from Natural Health Medicine. You can find Maria on Instagram @Natural_Health_Medicine or contact her through her website:...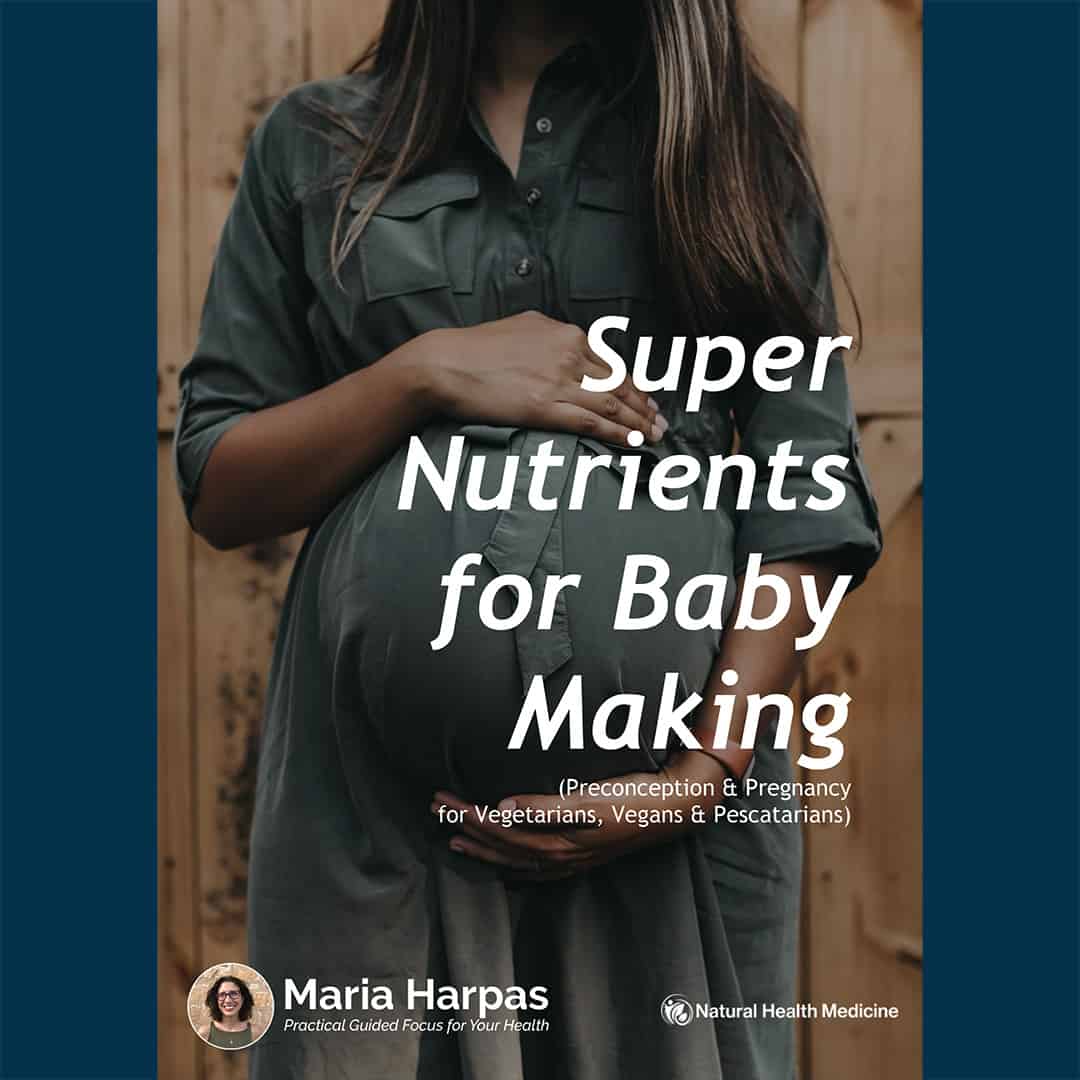 So, you want to make a baby!
Our Super Nutrient for Baby Making ebook will give you, your nutrient checklist in detail and how to find those nutrients in your diet. We have included charts that show you the foods highest in the most important nutrients to make a healthy baby.
Gall Bladder Is gallbladder removal absolutely necessary in all cases? The gallbladder is a small pouch like organ which sits just under the liver, its job is to store bile, which is produced by the liver. The gallbladder empties bile into the small intestine, and...
ALLERGY, HISTAMINE or INTOLERANCE? Many people suffer obvious, allergy type symptoms, yet have not been tested to determine if its actually an allergy or intolerance, or a histamine clearing issue! Treatment varies with each of these and for those who suffer the...
Addictions Addictions are becoming a major issue and whilst one of the key elements to recovery is, ones genuine want to stop and for their lives to change, there are some still some potholes that can interfere with ones recovery and rehab centres for many have not...
Ulcers Helicobacter Pylori (H. Pylori) is a gram-negative bacteria which invades the human stomach, effecting 30% of children and 60% of adults worldwide - that is more than half the population! It has developed the ability to survive in the acid environment of the...
Looking for healthy snack ideas? If you usually turn to fruit, or fruit based snacks, it might be time to consider something like, these flaxseed crackers. We often buy crackers, but you can make your own! It will take you a couple of hours once every 6 weeks...
Chia Seed Pudding Recipe - Quick and Easy Dessert This chia seed pudding is so quick and easy to make and a brilliant source of fiber, you will need to soak your ingredients before hand, they keep in the fridge for at least 5 days, so they become an easily accessible...
You can use your pesto in many ways, it can be added to your pasta to elevate the flavour or as a side to your rice and veggie bowl or as a dip on the cheese platter! Adding rocket boosts the nutrients which is a bonus, on top of all the good fats from almonds and...
This dish is full of healthy fats, especially omega-3 fatty acids which is amazing for your health. You can add salads or roasted veggies to go with it. INGREDIENTS Serves 2 1 x 170g salmon fillet 340g asparagus 1 tbsp avocado oil ¾ cup extra virgin olive oil 1/3 cup...
TURMERIC Boosts GUT HEALING  Turmeric boosts gut healing, otherwise known as curcuma longa plant, has been labelled more than just an ordinary food because it goes beyond just basic nutrition! With the most powerful aspect being the anti-inflammatory affect it has on...
Gluten free and sugar free, enjoy this delicious muesli with fresh fruit and your choice of milk and yoghurt ! Ingredients 1 cup soaked buckwheat (soaked for 4 hours min in filtered water) ¼ cup goji berries (any dried fruit sulphur free) ½ cup shredded/flaked...
  Tahini Slice – Lectin, Gluten, Dairy Free & lower Sugar - by Annie Hughes So this is an update on our previous Tahini Slice that incorporates some new ideas from Dr Steven Gundry and his research in his latest book the 'Plant Paradox'. Dr Gundry talks...
 Low inflammatory - Gluten & Grain Free - High Protein, fiber & Nutrients - Keto Friendly - Low Carb Ingredients 1 & 1/4 cups almond flour 5 tbsp ground psyllium husk powder 2 tsp baking powder 1 tsp sea salt 2 tsp apple cider vinegar 1 cup boiling...
Your Personal Health Support Team
We are here to support and guide you with our team of naturopaths and nutritional medicine practitioners, directed by Maria Harpas. We use pathology testing to assess your health and risks to allow us to develop a treatment plan just for YOU. We can also work closely with your GP to organize lab tests, coordinate your treatment, and measure your progress. The best outcome for YOU is what we want.